A beautiful, natural environment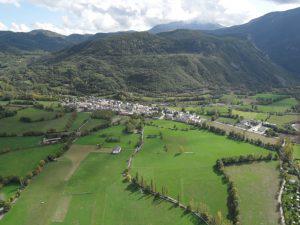 Castejón de Sos and its surrounding area have a beauty which will impress the traveler. The Pyrenees, its natural environment and the towns and villages of the Benasque Valley and the neighbouring valleys all blend perfectly in this landscape, and offer us hundreds of years of history at every turn.
It is situated in the north-east of Huesca province, at an altitude of 904 metres and at the foot of the Gallinero Peak, beside the N-260 National road. It is the main transport hub of the region and an ideal starting point to get to know the nearby areas of the Pyrenees such as Ordesa, Pineta, Arán, Aínsa, Roda de Isábena, Boi-Taull or Aiguestortes.
It enjoys a good climate with no extremes in winter as it is protected from the cold north winds, and in summer the temperatures are mild and agreeable.
Although it is a small mountain village perfect for relaxing, Castejón de Sos also has adventure sports. Hang-gliding attracts a large number of fans because of the spectacular meteorological and topographical conditions for practising paragliding which has brought Castjón de Sos world fame, or you can get to know the Benasque Valley from the air in a microlight or light aircraft.
Situated 20 km from the alpine ski station at Cerler and 25km from the cross-country ski station at Llanos del Hospital, Castejón de Sos is an ideal place to come in the winter to practise snow sports.
The high mountain definitely plays a leading role in the tourism of the area, with its meadows, streams and great mountain summits as well as being an ideal starting point for hillwalkers and climbers. Rafting, canyoning, mountain biking or horse riding can also be enjoyed in the area, giving an extensive catalogue of activities.
Another great attraction is the Pyrenean natural landscape which offers unique views on every route, every walk, every excursion. It hold a great wealth both botanically and in its abundance of fauna. In short, Castejón de Sos and its surrounding area offer a huge range of possibilities for people of all ages and conditions, with the guarantee of obtaining great satisfaction in your stay, and of course, the chance to do it all again.